Tuesday, January 20, 2015
The upside of having two working professional parents who believe in equally sharing household and parenting tasks is that the burden doesn't unfairly fall on my shoulders by default, like it does with so many women in so many families. We split up household tasks and share the important things (i.e. the parenting) and we've done so right from the beginning, yes even when I was breastfeeding.
I realize how much he does when he is travelling for work (just as I'm sure he realizes how much I do, when I'm travelling for work). It isn't the solo parenting that I find particularly hard while he is away, it is doing all of my chores while also doing all of his chores, while also parenting and also working. For the most part, when he is away, I do the day-to-day things that need to be done (e.g. cleaning the kitchen, doing the dishes, putting out the garbage on garbage day), but I leave the things that can wait until he gets back.
Last year, I wrote about a study on parents, household chores, and the impact on their children's attitudes and aspirations. I wasn't entirely convinced or overwhelmed by the results and I'll admit, I've been waiting to see what the impact of our choices will be on our children. Or whether it will even have an impact at all, considering that societal and peer influences could outweigh anything they see in our home.
But this week, as I've been solo parenting, my 10 year old has been voicing observations. I'm not entirely sure if they are innocent observations or developing snark.
Conversation One
Son: "Did someone sneak into our house while we were sleeping?"
Me: "No. The alarm was on. Why do you ask?"
Son: "Someone cleaned the bathroom. Daddy is away, but someone cleaned the bathroom."
Yes, I cleaned the bathroom. I cleaned the countertops, the sinks, the toilet, the floors and more. No, I didn't like it. No, I don't plan on making a habit of it. But the puke fest that visited our home over the weekend unfortunately required it.
Conversation Two
Son: "I hope Daddy is back from his work trip soon"
Me: "Why? Do you miss him?"
Son: "Well, yes. But also because someone needs to do the laundry soon. I don't have very many clean socks left."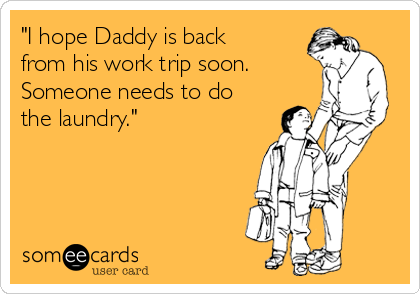 Oh dear innocent and/or snarky child. I'm glad you're learning that cleaning toilets and doing the laundry are not a woman's work. Little do you know that you may soon be learning they are a tween boy's work.

16 Comments
categorized in

Gender Issues
and tagged with

equally shared parenting,

feminism,

feminist parenting