Sunday, February 14, 2010
For single people, Valentine's Day is often society's cruel way of shoving their singleness in their face. For couples, it is filled with expectations and pressure to spend money to prove how romantic you are. For those reasons, I've never been a big fan. But as a parent, it brings on new meaning. The spirit of Valentine's Day brought out the best in Julian and allowed me to see the very sweet and thoughtful side of him.
On Thursday, he brought home cards from some of the kids in his class and said he wanted to make cards for his friends. While I made dinner, I asked him to write all of their names down on a piece of paper so that we would be sure not to miss anyone (I know there are 18 kids in his class, but I don't know all their names). He did that and then after dinner we got out the paper, the scissors, and markers. On each card he wrote "To [name of friend]. From Julian". I thought that was it. But then he proceeded to turn the paper over and draw a picture for each and every one of them. A car for one boy, a princess for one girl, a ball for another girl, some lego blocks for another boy, a cat for another girl, and so on. He paused with each one to think about what they might like and even drew a bottle of wine for one friend, "because we're funny guys".
He made us a nice Valentine's card at school and while it was nice and sweet, I also know it was a class activity and not something of his own prompting. So I was bowled over when he came out of his room on Saturday with a song he had just written for me, without asking for any help spelling any of the words.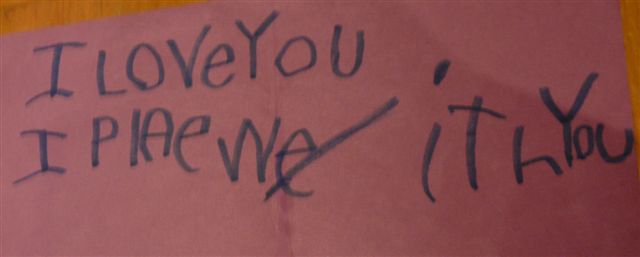 Translation for those not used to reading 5 year old:
La-la-la

La-la

XOXO

I love you

I play with you

I like you and you have love with me
These are the moments I live for as a parent. Most of the day I hear "I want..." and "Get me..." and "me me me", so it is so refreshing and rewarding to see evidence of the thoughtfulness developing inside of him.
What are the moments you live for as a parent? When have you been touched by your kids thoughtfulness? What makes your heart melt?

15 Comments