Monday, December 19, 2011
This next guest post is a great transition from the topics of toddler survival into the topic of toddler food. Please welcome Aimée from the amazing food blog Simple Bites with some great tips on surviving the grocery shopping experience with toddlers.

We must have looked a sight, my three-year-old, Mateo and I. It was my last minute attempt to hit up a grocery store before beginning my serious holiday cooking and baking blitz. My shopping list was lengthy and detailed, my time limited, and my energy flagging even before I unbuckled my son and stepped toward my local IGA.

I shivered in the December winds, my winter coat not giving much protection to my 6-month pregnant shape, and inwardly cursed myself for –yet again- forgetting to bring a couple of reusable shopping bags.

Once inside, Mateo shrieked and his little snowsuit-clad form staggered across the wet floors and lurched into a massive red plastic fire truck shopping cart. As I tossed my purse into the top of it, my iPhone dinged to let me know that my email was piling up as I ran errands.

Fast forward thirty minutes finds us hot, bothered and hungry. I can barely maneuver the unwieldy shopping cart between pyramids of Christmas fruitcake and Crisco. While I searched for just the right candied fruit peel for my homemade Pannetone, Mateo had thought it would be fun to poke his finger into a few shrink-wrapped packages of dried fruit. He was now grounded to the fire truck, where he fully reclined on the seat, his muddy, still-too-big winter boots hanging out the side window.

Too tired to care that his boots were a potential hazard and focused on finding the last few items on my list, I took the corner into the cracker aisle. In classic comedy style, his boots took out the entire bottom row of a tower of Breton crackers – and the rest came tumbling down around our cart.

That was it. I was done. I headed for the nearest check-out, paid my 5 cents per plastic bag, and enlisted the help of the grocery packer to push my cart out through the slush to my car. He must have seen the lag in my step, for he quietly loaded the car and gently closed the trunk before wishing me 'Joyeuses Fêtes'. I sighed. It wasn't my brightest hour. I knew better.

At home, as I unpacked the clementines and cranberries, my thoughts drifted to this yet-unwritten post and what wisdom I could possibly impart to Annie's readers. It seemed only fitting to share the most obvious lesson of the day – how to survive a grocery shopping trip with your toddler (and pregnant belly) in tow.

Because we don't just want to survive an outing like this, do we? They have to happen once or twice a week, so we may as well aim high and plan to actually enjoy them. On days when I'm not in a hurry or feeling hugely pregnant, I prepare ahead of time to make the grocery shopping a learning experience.




And so, here are my tips for making the best possible grocery shopping experience with your toddler.

1. Make a List.

This goes without saying, especially for those of us with chronic 'mommy brain'. Make the menu plan, write a detailed grocery list, and stick to it, thus avoiding impulse buys.

I take the organizing one step further. After my list is made, I take three different colored highlighters and highlight the list: fresh produce, pantry staples, and dairy/meat. Now once I'm at the market, it's easy to see at a glance if I've gotten all of our fruits and vegetables for the week.

2. Fuel Up.

Either have a snack before you go, or pack something portable to keep little hands busy (them), avoid more impulsive buys (you) or ward off hunger pains (all parties). Since we practice smart snacking, there's usually something in the fridge or pantry that is ready to grab and go.

Just sayin': sugar free lollipops can make standing in line at the cashier much more pleasant. Oh, and I'm not opposed to dipping into a box of rice crackers before they've been purchased either.

3. Apples or Pears?

When shopping for groceries, occasionally include your child in the process by giving them a choice between two items. Not only will it keep them engaged, but they will genuinely feel as they are not just along for the ride.

Bonus: Letting your child choose between green or yellow wax beans really does help him connect with his food and later you will reap the benefits around the dinner table when he is eager to eat 'his beans'.

4. Quiz Time.

Kids love to show off their smarts and can be easily entertained by your request to name off fruits and vegetables. They are curious too, and will listen to your tale of where the produce came from and how it was harvested if you care to spin one. That just might buy you enough time to select the perfect avocados you need.

Piquing your child's curiosity for food can help lead to a lifelong interest in healthful eating, cooking, or even farming. It's never too early or too late to begin.

5. Don't Get Then Started on Junk Food. Ever.

As Annie writes, we as parents have a responsibility to say "No" to unwholesome foods and to teach about and provide our children with proper nutrition.

We want our children to grow up to be healthy eaters, aware of the way their food choices affect the planet, and how it is produced. Most importantly, we want them to connect the dots between healthy, whole food and happiness.

So much of developing a healthy family food culture begins in the grocery store with the choices our children observe us making from day to day, season to season, year to year.

I can safely go down the cookie or junk food aisles without one request for Twizzlers or Bear Paws. Sure they've had these items at grandma's or playgroup, but both my sons instinctively know that they don't go in mama's cart.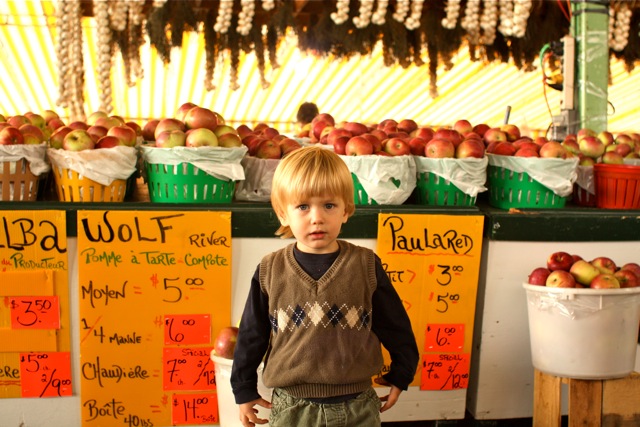 How do you manage the grocery outings? I'd love to hear your wisdom, stories and tips!

Aimée Wimbush-Bourque is a food writer and expectant mother of two, living in Montréal. She draws from her rural, whole foods upbringing as well as her professional training as a chef to prepare simple, unprocessed home cooking on a daily basis for her family. On her award-winning food blog, Simple Bites, she chronicles her kitchen experiences with stories, cooking tips and recipes. For more whole food inspiration and everyday delicious chit-chat, follow Aimée on Twitter and Facebook.

Toddler Carnival Sponsor


29 Comments
categorized in

Nutrition