Monday, February 13, 2012
They say Disney World is the happiest place on earth. For children, it certainly holds that promise. When I was a kid, I always wanted to go to Disney World. I finally got to go when I was fourteen years old and had a great time. But it wasn't really magical at that point. We figured Disney was something we wanted to do with our kids at some point, possibly only once, and we wanted to do it when they were still at an age where it would be magical to them.

So this year, for Christmas, I bought Mickey Mouse and Minnie Mouse puzzles, encoded a secret message on them, took them apart, wrapped them up and put them under the tree.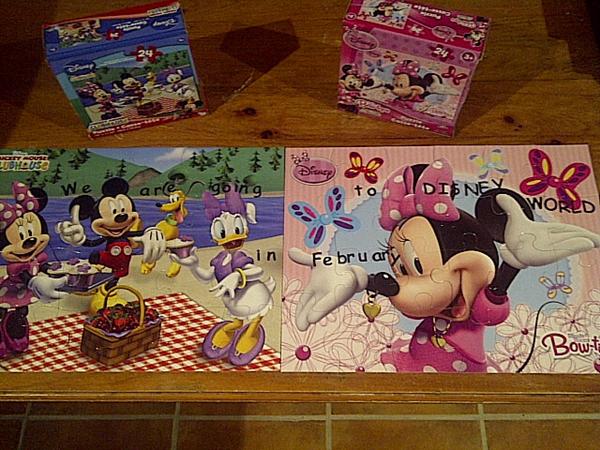 They were thrilled. Emma said: "Wishing on a star works. I wished upon a star that we would go to Disney and it came true." A little bit of magic before we even got there (of course she has now wished on a star for some plastic junk that she saw on a TV commercial that she wants for her birthday).

Finally, on February 2, it was time to go. Some of the details of our vacation (as context, because it affects what I have to say about what we liked and didn't like) included:
Our kids are 7 years old and almost 5 years old.


We bought a 5 day pass (that would allow us to go to each park once, and then have a second day at one park).


We flew to Orlando with WestJet and rented a van for our stay.


We stayed off-site (i.e. not at a Disney hotel) in a 3 bedroom condo about a 10 minute drive from Walt Disney World.


My mom was with us for the whole stay and my dad joined us for a couple of days (he was there for a conference).


I had mixed feelings about going to Disney. I like some of the stories and movies and I love seeing my kids get lost in a fantasy world, but I also really dislike the over-commercialization of it all and the princess culture. My kids, however, love it all (which bothers me, but also creates opportunities for conversations and teaching them to be critical of media and consumerism). This vacation, however, was about them having fun, so I went along and participated with gusto. The lessons can come another day.
What I Liked at Disney
The Fun: The rides were great, the parks are nicely laid out, the staff is friendly and we had an absolute blast. The little details they thought of, like a mini-playground in the waiting line for the Winnie the Pooh ride or the Mickey Mouse videos that they show when you are waiting in line to get into a Mickey Mouse show, ensured that we didn't get frustrated or bored with the lines.


Responsive Staff: I lost a kid at Disney. I was alone with Emma at the "Honey, I Shrunk the Kids" playground while the others were off at a stunt show. The playground has climbing structures and tunnels that make it impossible to keep an eye on your child at all times (unless you're crawling through with them). I positioned myself in the middle of the playground and Emma would come by every few minutes as she went from one place to the next. Until she didn't come back for more than 10 minutes and I went to look for her. I spent 10 minutes looking for her and couldn't find her anywhere. I went to the exit of the playground to ask the person usually posted there if he had seen a kid fitting her description leave, but there was no one at the exit. That's when I panicked. She could have been gone for a full 20 minutes. I found a staff member and asked her if there was someone who could help me look for her. Right away, she said "I can". She asked me a few questions (what does she look like, where did you last see her) and jumped into action. She found her playing with some other kids in a cave. Big relief.
The Muppets! We love the Muppets and it was great timing being able to see the Muppet show and all things Muppet-related after having seen the new movie, as well as several of the older movies, recently.
Surprisingly, the Food: I was pleasantly surprised with both the quality and the price of the food. On the first day, we got an adult-size veggie pizza with caesar salad, two kid-sized pizzas with cheese, two side orders of apple sauce and carrots with the kids meals, juices for the kids and a large unsweet iced tea, all for around $20. Most of the food that we ate was very good, with reasonable prices, and fruits and vegetable served with both child and adult meals instead of fries.
The Characters: I didn't expect a lot from the characters, but I was impressed. Our kids loved being able to meet them, they always gave the kids hugs, posed with them for pictures, talked to them a bit, and generally were really great sports. They were incredibly good at staying "in character", asking questions and doing things that fit with who they were. Cinderella complimented Emma on her dress and asked if her mice made it for her. Belle danced with her. Rafiki, the monkey from the Lion King, took Emma's stuffed animal and held it up in the air like he did with the baby lion in the movie. That said, Emma remarked that Tiana (from Princess and the Frog) and Alice (from Alice in Wonderland) had the "wrong voice", but apparently the rest of the princesses had the "right voice".
Staying Off Site: I liked that we didn't stay at a Disney hotel. It was nice being close by, but having more space to ourselves and having a full kitchen and private pool that we could use. That meant that we only bought one meal each day at Disney, which saved us a lot of money and stress. It also meant that we didn't have to cram into a tiny hotel room.
What I Disliked at Disney World
"Princess": Everywhere we went, Emma was called "princess". When they did it at the breakfast with the princesses, I didn't mind that much. It fit the scene. But the rest of the week, every time a Disney staff member spoke to her, they called her "princess". Interestingly, they didn't seem to have a standard name to call boys. Julian didn't get called "pirate" or "prince" or anything like that.
Abusive Parents: I don't know if it is the stress of a family vacation, a cultural difference between Canada and the United States, or the sense of entitlement of parents who have spent a lot of money on a vacation for their kids, but I saw more parents physically abuse their children in one week at Disney World than do in years at home. Two of the children were slapped across the face (one by a father, one by a mother) while strapped into a double stroller. I will admit that the vacation was stressful at times, but if the price of a Disney vacation is abuse, I don't think it is worth it.
Waste: In Canada, if I say "I don't need a bag" or "I don't need a box" it is usually respected without question. At Disney, I went into a little bakery at Hollywood Studios with Emma and she picked out a cupcake to eat. The woman behind the counter took out a big plastic cup, which she turned upside down (i.e. lid on the counter) and was about the place the cupcake in. I said, "That's okay, we don't need that, we're going to eat it right here," as they had tables in the store. She said something along the lines of "I'll give it to you anyway" and then passed it down to the cashier. As the cashier was ringing it through, I took the cupcake out of the plastic cup and left it on the counter. She said "oh, you don't need this?", holding up the cup. I said, "no thank you, we're going to eat it here" and she took it and tossed it into the garbage bin behind her. I've since learned that there is possibly separation of recycling away from the guests at Disney (not confirmed, but heard), but I didn't appreciate having my request ignored and the appearance that they didn't care about excessive unnecessary waste.
Not Enough Coffee: I'm a caffeine addict. I'll admit it. Most of North American and European society is set up to accommodate that. At Disney, however, I had to go out of my way to find coffee most days and some of it was not that great. I had a wonderful latte that I bought outside the gates at the Animal Kingdom, but the rest of the time, I either couldn't find the coffee or it wasn't that great.
Things to Buy Everywhere: It seems like almost every single ride we got off of had a store outside of it that we were forced to walk through while leaving. It felt like I spent half of every day saying "no, we're not getting anything now, you can buy something on the last day of our trip" or "look around if you like and remember what you like and then see if you still like that the best on the last day".
Am I happy that we went?
Ultimately, yes. I am happy that we went. I loved seeing my kids that happy (when they weren't whining about yet another balloon or souvenir that I wouldn't buy) and am thrilled that they had a good time. This vacation was all about them and this was the right age to do it at.

Will we go back? I'm not sure. I would say that we probably won't. Not because we had a horrible time, but because there is so much more to see on this earth and most of the true magic is found outside of those 47 square miles in Florida.

So long, Mickey Mouse. Maybe I'll be back with my grandchildren one day.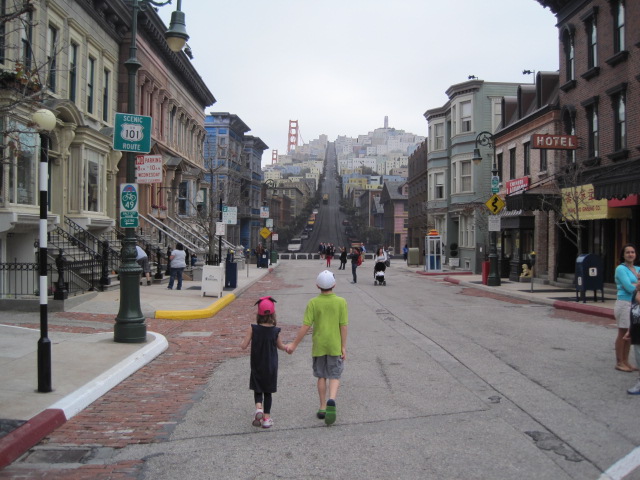 85 Comments
categorized in

Travel with Kids