Thursday, October 31, 2013
Over the years, you've probably seen a lot of campaigns saying that if you "like" something or comment on a blog post, a donation will be made to feed hungry children, vaccinate babies, or find a cure for breast cancer. It sounds easy, it IS easy, but there's often more to it than that. I can see the good in some of these campaigns, but I'm also wary about corporate attachments to good causes.
This is why, although I'm a social good and social change blogger, you'll see me shy away from, ignore, or sometimes outright criticize the social good campaigns with major corporate affiliations (unless they are transparent and have no conflict of interest). That is also why it is easy for me to enthusiastically support UNICEF Canada's "Likes Don't Save Lives" campaign, which encourages people to go beyond slacktivism and make a donation that will make a difference.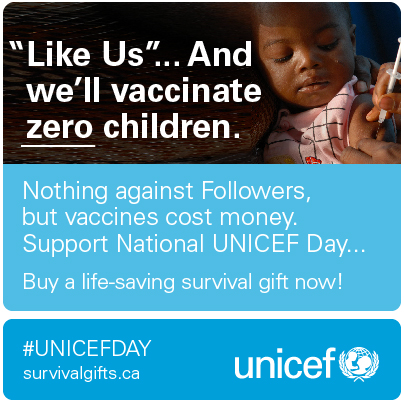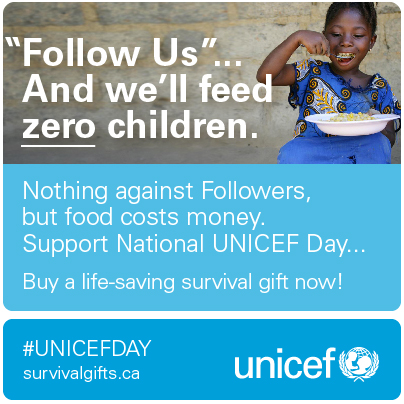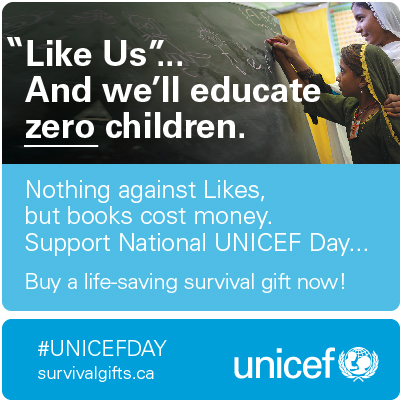 If you normally would have had a pot of change out for trick or treaters to put in those orange UNICEF boxes that they used to carry around, perhaps consider making a direct donation in the form of a UNICEF survival gift instead. The gifts range from $10 all the way up to $40,413. There is something there for every cause and every budget, whether you are interested in supporting vaccines, nutrition, health, education, or other important initiatives.
Take a look at UNICEF's survival gifts and tell me which one you're buying or which one you would like to buy. I plan to buy one, but am still thinking about which one. I'd love your thoughts on what you think is most important.
Note: After writing this post and getting ready to publish it, I noticed that UNICEF Canada had a note on their website indicating that for each blog post written about their campaign, Hallmark Canada was going to donate 10 vaccines. That wasn't my motivation for writing this post, but of course, based on what I wrote above, I wanted to know what that actually means in financial terms. I reached out to UNICEF and they got back to me right away and also added clarifying information on their website. One tetanus vaccination costs 7 cents, so that value of Hallmark's contribution per blog post written is $0.70.

9 Comments